Last year I baked, and ate, and ate, and baked, and fell in love with a cookie.
A simple cookie with way too long of a name.
A cookie that makes me think of snow and pine trees and cozy quilts.
A cookie that isn't going to win any beauty pageants, but has what matters most- it's crazy delicious.
This year was going to be the year to bake White Chocolate Cranberry Cream Cheese Snickerdoodles.
Then my cookie scoop broke.
Don't go messing with my cookie scoop.
Plan B was stolen right from the mind of Jami Nato.
Cookie dough to go.
Brilliant, right? Because the homely looking, delicious tasting, too many words in the title, cookie could have been passed over in the vast sea of holiday treats that find their way into our parties, doorsteps, and offices.
Cookie dough to tuck in your fridge or freezer, to bake at your leisure, say when you are in need of eating some Christmas-is-already-over feelings, however would be a welcome delight.

Meet White Chocolate Cranberry Cream Cheese Snickerdoodles version 2.0:

A sleeker name.
A cute package.
Same glorious insides.

The name and design inspiration comes from one of my most favorite childhood Christmas stories:
Cranberry Christmas
. I remember looking forward to that book each and every year. My brother and I even called our neighbor Cyrus Grape. He was a mean dude. MEAN. I am so sad the book is out of print and a million dollars on Amazon. It really is so special. If you come across one at a thrift shop, be sure to snatch it up.
Here is the lowdown on how to make the dough to go:
Chill for at least 30 minutes (it is really sticky dough)
Divide dough into thirds.
Plop each third onto plastic wrap and roll like a burrito.
Jami has great pictures on each step
here
.
Scoop 1/3 cup
cinnamon sugar
into snack size Ziploc bags.
(I do not love the cinnamon sugar pack that comes with the snickerdoodle mix.)
Nestle together the Ziploc of sugar, and the plastic wrapped dough, roll like a burrito in wax paper.
Secure wax paper with tape, tie ends with string or twine.
Print out the labels, cut in half, secure with tape.
Gift away.
You might just feel the need to save a batch for yourself, you know, for quality control, and safety testing issues.
Each snickerdoodle pouch makes three dough rolls. Each dough roll makes one dozen cookies.
I was able to bust out twelve in one naptime. With multiple jalapeno Cheeto breaks in between, obviously.
With no cookie scoop, and one oven, baking twelve dozen cookies would have taken me twelve dozen years.
The dough plan is SO MUCH BETTER.
Happy dough rolling.
Download the printable labels
here
.
(So many more yummy cookie recipes over at The Larson Lingo link up.)
Email This
BlogThis!
Share to Twitter
Share to Facebook

late walking sister
. (P.S. It hurts my heart to see her all little and bald. Time is a jerk.)
3. I updated the
list of Christmas albums
that have been filling our home. Some new good ones. Repeat. Repeat. Repeat.
Visit Life Rearranged
for the deets.
cranberry cookies
. Cookies that broke my
cookie scoop
. I feel really lost in the kitchen without it. What? I have to use a spoon???? Is this prehistoric times?
These helmets
. I mean seriously. Head injury prevention has never, ever, ever, been cuter. I went looking for the bunny and the unicorn, but the cats aren't so bad as second choice.
7. Hello. Child and baby sized Mission style rocking chairs at Disney's Grand Californian. Can you even deal with it? Chances are, we will never stay there, but we sure do put some time in the lobby. How could you not?
This
was an awesome craft. It kept her busy for hours. Until she ran out of rocks.
Amazon
didn't exist, I fear we would have 0% of our Christmas shopping done. Out in public we are dorks and get nothing accomplished.
11. I'm debating between these two amazing items to bring to a favorite things exchange. Neither are very glamorous, but both are game changing. Lemi Shine
almost made the cut
at my last Favorite Things party, and
at that party
, I was lucky to find out about the Tresemme Two Spray hairspray that keeps your curls in foreverrrrrrr.
What are the latest and greatest bits of nonsense in your life today?
Email This
BlogThis!
Share to Twitter
Share to Facebook

I spent some time yesterday with a new pretty version of one of my most favorite stories.
Sigh....
(I may or may not have a little bit of an obsession with
Penguin Clothbound Classics
. Little by little, book by book, I am building a pretty library. The library which may need to add an additional wing thanks to the
Mr. Boddington's versions
. Yes, I do judge books by covers. Classic books. The library will also need a children's wing for the
Puffin Clothbound Classics
for the younger set. My eight year old reader has a penchant for classics and pretty covers as well. So pretty.)
So back to Les Miserables... Have you read it? I feel as if it is one of the books that should be required reading for the privilege of breathing oxygen on this planet. Extreme? Maybe. There really is no excuse. When I see the ahem... other books that fill the time and minds of people, I sigh.
The books that have no depth, substance, or the ability to withstand time.
Do I occasionally devour a quick, frivolous read? Yes. However, the classics always bring me back. The books that I cannot bear to end. The ones that I come back to again and again. The ones that I was so glad I was forced to read in college. The books that I choose to read now.
Les Miserables is a pretty hefty read. I have read many translations, as well as the abridged version. If you are scared, give the one of the abridged route a try. It's even
free on Kindle right now
, so between that and the local library, there is no reason not to.
Stepping of my lover of books soapbox, onto my lover of movies one...
This is where I will be on Christmas Day, after all the presents have been opened.
Sobbing mascara down my face.
Email This
BlogThis!
Share to Twitter
Share to Facebook


Because Christmas music is fun, I thought I'd share what we have been listening to these days...

Obviously.
I mentioned my love for them here. It has been my morning companion as of late.
So many great songs. Like a million or so.
This album got me out of an I-don't-feel-like-decorating-funk.
Musical magic. I could possibly listen to these albums all year long. Even in July.
Just so fun. Perfect for background party music.
7.
The Antioch Christmas Album
Shauna's
sister Grace's voice is unreal.
Favorite.
8.
Folk Angel
.
Any album. Any song.
Where have they been all of my life?
(Albums also available on itunes...
as well as Spotify.
Public service announcement:
I love Spotify and Pandora as much as the next girl.
But don't be shady.
It is so great for finding new, rad, music.
It is not so great for replacing the need to support musicians by actually purchasing music.
That is all.
Carry on.)
What are you listening to?
What do I need to add to my playlist?
I love learning about new music.
Email This
BlogThis!
Share to Twitter
Share to Facebook

Today I celebrate another journey around the sun on this beautiful, broken, planet.
Today I celebrate what was one of the hardest years of our life, yet one of my most favorite.
When we are weak, our God is strong.
He makes beautiful things out of us.
These are the moments that make it all worth it. These are the moments that I hold on to.
My savior. My husband. My family. My friends.
Undone thinking about the beauty that is this little life that we live each and every day.
Happy. So very happy.

Email This
BlogThis!
Share to Twitter
Share to Facebook

Want a super easy no sew banner project to bust out while you are watching something mindless on your dvr or listening to your favorite Christmas album?
Like crazy easy.
With supplies you might just have on hand.
Supplies:
Old or new maps (AAA is good for more than towing cars. Put your membership to good use and get a few maps from your favorite places)
Chipboard/ die cut letters (I used glitter chipboard ones leftover from a different project from Michaels. Obviously I was short a letter. Thankfully I have a
craft supply hoarding friend
who hooked me up with the missing O.)
Twine/ string/ yarn/ ribbon
Stapler
Scissors or a rotary cutter
That's it.
Cut out your flags.
These are 8x5 inches
Fold down one inch, fold over twine, staple.
Glue on your letters.
Hang and celebrate.
The end.
My favorite Christmas song from one of my favorite Christmas albums.
Email This
BlogThis!
Share to Twitter
Share to Facebook

I'm a girl.
I get emo.
No getting around that issue.
The last six months have been full of so much change, so much loss, so many decisions, honestly, just so very much of everything.

Sunday I woke up with a cold, and just broke.
After church I shut myself in our room and slept the entire day away, which is something I never ever, ever do. It was so needed. I recommend indulging in a little breakdown day here and there.

My emo feelings are usually accompanied by chocolate and peanut butter. Lots of feelings. Lots of eating of said feelings. Making things in the kitchen is how I deal. Oh how I wish that I was one of those starve through your feelings people. Sign me up for that coping mechanism.

Two things were on the top of my Eat My Feelings list. Two things that I wanted to make.
First thing? Buckeye Bark. Heather put a pic of her eating said feelings via Buckeye bark a few weeks ago. Yes please.
Second thing? Buckeye Truffles.
The thing is, my feelings needed to be eaten quickly. Truffles seemed too labor intensive.
A decision needed to be made. A new recipe needed to be created. One that would be like if Buckeye Bark and Buckeye Truffles had a baby, and that baby was an amazing therapist.

Meet that delicious baby.
I named it Emotional Breakdown Bark.

Let's call a spade a spade. If you are going to eat your feelings- EAT YOUR FEELINGS WELL.
Ingredients:
2 bags chocolate chips (semi-sweet, milk, whatever is your fave)
Shortening
1 cup crushed pretzels
1 cup creamy peanut butter
1 cup powdered sugar
1/4 cup butter, melted
1/2 teaspoon vanilla
1/2 cup peanut butter chips
Directions:
Bottom layer:
Pour one bag of chocolate chips, and one tablespoon shortening in a microwave safe bowl. Heat in microwave in thirty second increments, stirring in between until smooth and melted.
Spread on a parchment lined baking sheet.
Scatter half of the pretzels on top of melted chocolate.
Chill in freezer.
Middle layer:
Combine peanut butter, melted butter, powdered sugar, and vanilla.
Stir until smooth.
Spread over chilled chocolate/ pretzel layer.
Top layer:
Repeat all the steps of the bottom layer.
Peanut butter drizzle:
Combine 1/2 cup peanut butter chips and 1 teaspoon shortening in a microwave safe bowl.
Heat in microwave in thirty second increments, stirring in between until smooth and melted.
Drizzle over top layer.
Chill in fridge until set.
Cut into squares using a very sharp big knife.
Commence with the eating of the feelings.
Indulge in a little emotional breakdown.



Made anything fun, therapeutic, or delicious lately?
Link up your Pintertest adventures.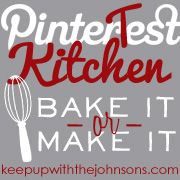 Email This
BlogThis!
Share to Twitter
Share to Facebook