I am so excited for this week's giveaway.
Really, really, crazy excited.
I remember the jump up and down excitement
that I felt when I realized that I was the winner.
Marina
, my brilliant designer is preparing for the
birth of her baby boy.
I can just imagine his birth announcements!
I came across Kelly's
blog
through Marina's.
They are both super cute Texans, who I want to be
I pretty much want to live in Kelly's house
and steal her stinking adorable dog.
Her style is beautiful, glamourous,
truly, simply fabulous.
Don't even get me started on her stunning
photography. I pretty much could get rid of
all of my home magazines and just
read her blog for inspiration.
When Kelly offered to give one of you a
blog makeover I freaked out a little bit!
(She even offered to write the post for me as
I lay around moaning about my summer head cold.)
Are you freaking out too?
So here she is:
I am so excited to announce what
I hope you'll think is an exciting giveaway.
Here it is...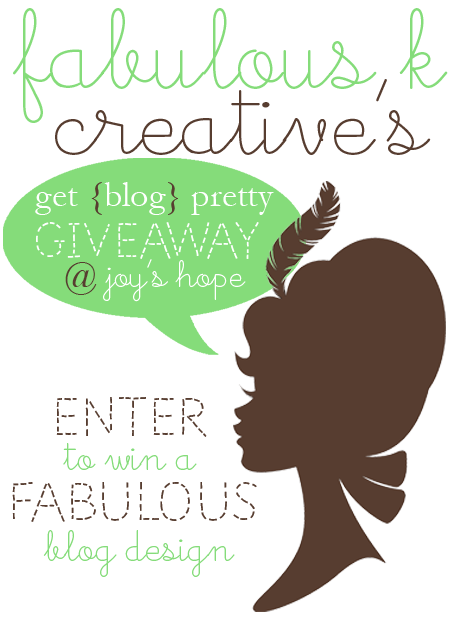 I am giving away a blog design
right here on one of my favorite blogs,
Joy's Hope!

One lucky winner will receive an
matching wallpaper or color
coordination
for sides
color
coordination
of links
name signature for the bottom of posts
(up to 7) custom sidebar titles
(Remember to leave a
separate
comment for every entry.)
Come back and tell us what your favorite design is in my portfolio.
2. Make yourself a follower on the Fab K Creative
main page
.
3. Make yourself a follower on the Fab K Creative
design blog
.
5. Follow me on Twitter
here
.
That's Five ways to enter.
Contest will run until noon pacific time
{please note: this giveaway is only valid on blogs hosted on the blogger platform.}